If you use Gmail or hosted Google Apps, you might be interested in taking a backup of your data, such as emails, Drive documents, and calendar entries. Thankfully, you can usually export copy of your account data using Google Takeout.
If your hosted Apps account has Takeout disabled, then you can do a backup, it simply has a few extra steps.
Option 1: Google Takeout
This method is nice and simple. Simply go to the Data tools – Download your data page, and select which services you want to export: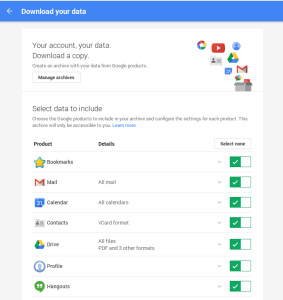 It can be a bit eye-opening to see the amount of data Google has on you (Files, conversations, location history, etc). At this point, click through to "Prepare Download". Depending on the size of your account, this may take as a coffee break, a few hours, or even an entire day.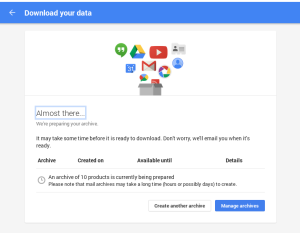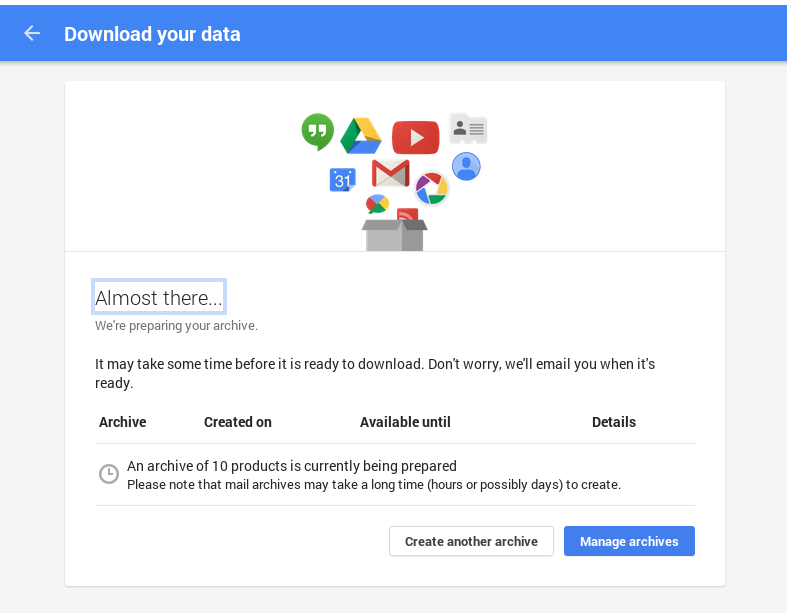 If you check the box for it, you'll get an email like this when your Download completes: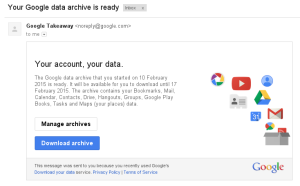 And this lets you fetch a single file:

The .zip file contains a series of folders, one for each service. The defaults seem to be:
Mail

A unix mbox file

Calendar

One iCal file for each calendar

Contacts

One vCard file for each group.

Drive

Exports as PDF, docx, xlsx
Option 2: Export data from each service
Sometimes, Google Takeout isn't an option.

Luckily, most Google services have some sort of data export built in. This means, if you have a new contact manager, or want to include your Drive in your PC backup, it's still possible.
The export formats in these examples should match the Google Takeout defaults. Tab through each service t see how to export it:
Know how to export a different service? Send it in and I'll add it to the list.
How do I use these files?
Google Drive's files are exported in familiar formats. If you haven't used an mbox, vCard or ics file before, then you will need to find a program which can read these for you.
Google's support answer "Download your data: Per-service information" contains a list of files types which you'll run into during this process, and suggests programs which can import them.